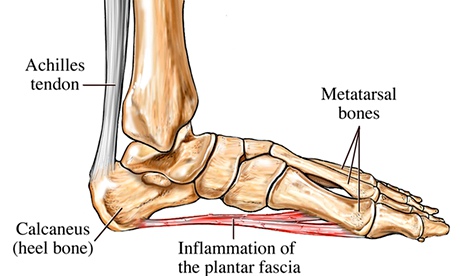 Overview
Plantar fasciitis is the most common cause of heel pain in runners, eventually affecting 10 percent of the running community. While running, the plantar fascia works with the Achilles tendon to store and return energy. Because of its powerful attachment to the base of the toe, the plantar fascia stabilizes the inner forefoot as forces peak during pushoff. Unlike bone spurs and stress fractures of the heel, plantar fasciitis tends to produce pain during the pushoff phase while running, not during initial contact. A simple way to tell if you have plantar fasciitis versus a heel spur/stress fracture is to walk on your toes: heel spurs and heel stress fractures feel better while you walk on your toes, while plantar fasciitis typically produces more discomfort when you shift your weight onto your toes.
Causes
Plantar Fasciitis is frequently cited as the number one cause of heel pain. The condition affects both children and adults. Children typically outgrow the problem, but affected adults may experience recurring symptoms over the course of many months or years. The syndrome afflicts both highly active and sedentary individuals. Typically, Plantar Fasciitis results from a combination of causes, including, pronation, a condition in which the plantar fascia doesn't transfer weight evenly from the heel to the ball of the foot when you walk. Overuse of the feet without adequate periods of rest. High arches, flat feet or tightness in the Achilles' tendon at the back of the heel. Obesity. Working conditions that involve long hours spent standing or lifting heavy objects. Worn or ill-fitting footwear. The normal aging process, which can result in a loss of soft tissue elasticity. Physical trauma to the foot, as in the case of taking a fall or being involved in a car accident.
Symptoms
Pain is the main symptom. This can be anywhere on the underside of your heel. However, commonly, one spot is found as the main source of pain. This is often about 4 cm forward from your heel, and may be tender to touch. The pain is often worst when you take your first steps on getting up in the morning, or after long periods of rest where no weight is placed on your foot. Gentle exercise may ease things a little as the day goes by, but a long walk or being on your feet for a long time often makes the pain worse. Resting your foot usually eases the pain. Sudden stretching of the sole of your foot may make the pain worse, for example, walking up stairs or on tiptoes. You may limp because of pain. Some people have plantar fasciitis in both feet at the same time.
Diagnosis
Your doctor may look at your feet and watch the way you stand, walk and exercise. He can also ask you questions about your health history, including illnesses and injuries that you had in your past. The symptoms you have such as the pain location or when does your foot hurts most. Your activity routine such as your job, exercise habits and physical activities preformed. Your doctor may decide to use an X-ray of your foot to detect bones problems. MRI or ultrasound can also be used as further investigation of the foot condition.
Non Surgical Treatment
Treatment of heel pain caused by plantar fasciitis begins with simple steps. There are a number of options for treatment of plantar fasciitis, and almost always some focused effort with nonsurgical treatments can provide excellent relief. In rare circumstances, simple steps are not adequate at providing relief, and more invasive treatments may be recommended. Typically, patients progress from simple steps, and gradually more invasive treatments, and only rarely is surgery required.
Surgical Treatment
Surgery for plantar fasciitis can be very successful in the right patients. While there are potential complications, about 70-80% of patients will find relief after plantar fascia release surgery. This may not be perfect, but if plantar fasciitis has been slowing you down for a year or more, it may well be worth these potential risks of surgery. New surgical techniques allow surgery to release the plantar fascia to be performed through small incisions using a tiny camera to locate and cut the plantar fascia. This procedure is called an endoscopic plantar fascia release. Some surgeons are concerned that the endoscopic plantar fascia release procedure increases the risk of damage to the small nerves of the foot. While there is no definitive answer that this endoscopic plantar fascia release is better or worse than a traditional plantar fascia release, most surgeons still prefer the traditional approach.
Prevention
Preventing plantar fasciitis is crucial. There are many choices to help prevent the occurrence of this condition, and keep it from returning. One of the most important is maintaining a healthy weight in order to reduce tension on the plantar fascia. In addition, shoes are very important, and should fit well and provide ample cushioning and support throughout the heel, arch, and ball of the foot so that weight is distributed evenly throughout the foot. Try to avoid walking barefoot on hard surfaces and replace old shoes before they wear out, especially shoes that you run or exercise in. When exercising, start off slow and ease into new routines to prevent sudden or excessive stress on tissue. Lastly, keep your calf muscles and the tissue of your feet stretched. Greater flexibility in the tissue makes them less susceptible to damage.